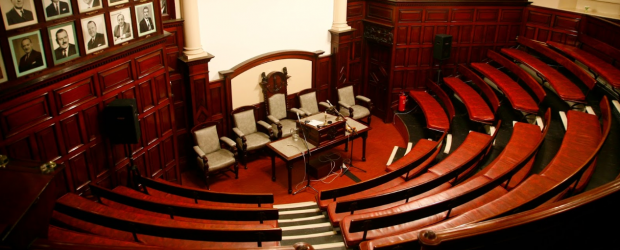 SUSAN STENGER LECTURE AT THE MINING INSTITUTE
On Mon 27 April at 6.30–8pm, Susan Stenger gives an illustrated lecture about her artistic practice and career to date, including major commissioned works such as Sound Strata of Coastal Northumberland, Full Circle and Soundtrack for an Exhibition. The event takes place at The Mining Institute, which was founded by the local mining engineer Nicholas Wood in 1852 – the same Nicholas Wood who created the geological strata diagram that Sound Strata uses as a graphic score.
At a meeting of the Literary and Philosophical Society on 3 July 1852, it was proposed to form a society to meet and discuss the ventilation of coalmines, the prevention of accidents, and purposes connected with the general working of the coalmines. The inaugural meeting was held on 3 September 1852, at which Nicholas Wood delivered the address. One of the founding objects of the institute was 'to establish a literary institution, more particularly applicable to the theory, art and practice of mining'.
The Nicholas Wood Memorial Library at the Institute houses over twenty thousand volumes of primarily technical literature in the fields of mining, geology, mechanical engineering, mineralogy, mining statistics, mining law, seismology and other related subjects.
Space is limited so please reserve a place by emailing: info@avfestival.co.uk. Some places may be available on the door.